The landing performance and flight tracking tool!
LRM is a free tool that enables you to monitor and track your aircraft landing rates and flights across all major flight simulator platforms.
LRM supports all types of aircraft and flying styles from the "low and slow" general aviation, sea-planes, helicopters to military fighter jets, and large, multi-engine jet aircraft!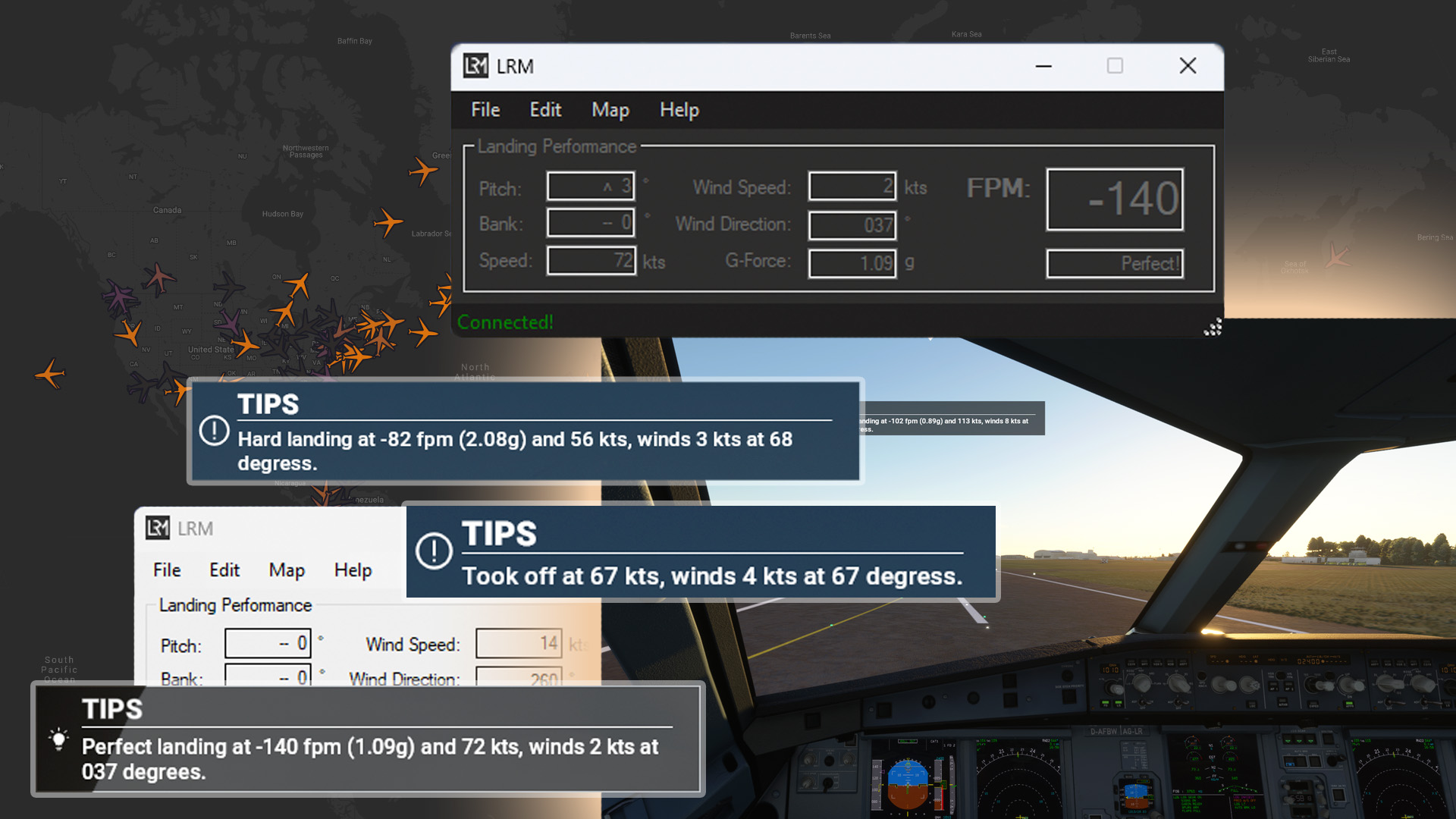 * Microsoft Flight Simulator 2020 users can now download and try out the new BETA release of our SimConnect client (v5.5.9-beta6 - released 13/11/2022) which does not require FSUIPC to be installed or running!This is currently considered an experimental version at this time and so, please use with caution and expect bugs! We would recommend the majority of Microsoft Flight Simulator 2020 users to continue using the Universal (FSUIPC) version of the client at this time!
System requirements
Microsoft Windows 7, 10 or 11
Microsoft .NET Framework 4.8 (or higher)
32MB of free hard disk space
50MB of "spare" memory (RAM)
FSUIPC - When using the "Universal Client" users will need to install a free copy of FSUIPC. X-Plane users will instead need to download and install the XPUIPC plugin instead.
License
LRM is provided free of charge but without warranty for both personal and commercial use, feel free to download and use it today!
Donate
LRM is developed and provided free of charge; if you value this software and the time it takes to be developed please consider donating.
The official FsHub client!
Whilst LRM (Landing Rate Monitor) can be used offline without an FsHub account (for landing rate performance monitoring). LRM is the official FsHub ACARS client and is used by thousands of simulator pilots around the world to track their personal and virtual airline flights!
Features
LRM is easy to install, use and comes with a whole host of features right out of the box...
Lightweight
LRM aims to be as lightweight as possible and frees up system resources for your flight simulator. LRM only requires a few megabytes of space on your machine and typically uses less than forty megabytes of system memory!
Local or Cloud logbook
The default (local) "log book" provided by LRM records various metrics about your touch-down performance and flight hours, you can however take your experience to the next level with flight maps, altitude and speed charts too over by linking it to a free FsHub account.
All major flight simulators supported
LRM is compatible with SimConnect, FSUIPC and XPUIPC and therefore supports all major simulators from the latest Microsoft Flight Simulator 2020, X-Plane and right back to FS2004!
Our latest SimConnect client is preferred by many MSFS2020 users.
Cabin announcements and SFX
Want to hear your passengers applaud for a great landing or screams from the cabin on a dangerous one? These optional settings can give you instant audible feedback!
When using AeroPad (our integrated EFB), LRM can also play back other cabin SFX to such as the safety briefing, "welcome aboard" and many, many more!
WideFS and SimConnect (Network)
If you have advanced requirements, LRM can be run on a remote, networked devices using SimConnect or WideFS.
LRM, despite being used primarily on domestic (home) simulators, it is also installed and used in commercial training simulators around the world too, often where LRM is running on a separate, networked PC.
Enhance your experience
LRM is packed full of awesome features, connect it to a free FsHub account for even more functionality!
Cloud Log Book
Connect LRM to a free FsHub Account and have your flight reports sent directly to our cloud platform keeping them safe, secure and using the additional features that FsHub provides, enhance your experience further.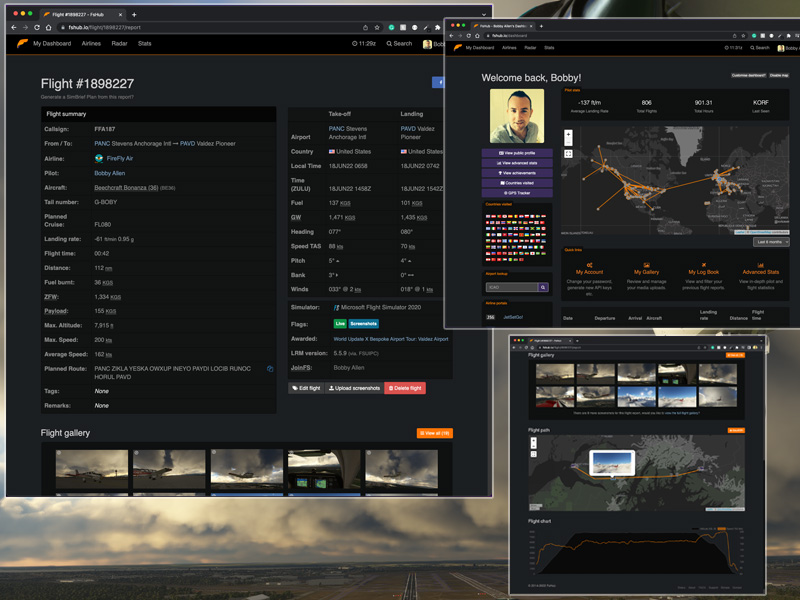 Virtual Airline Tracking and Custom Styling
LRM is used by many virtual airlines across the world to collectively track and build airline performance statistics. LRM, when paired with an FsHub-powered virtual airline brings many powerful airline customisation features immersing your pilots.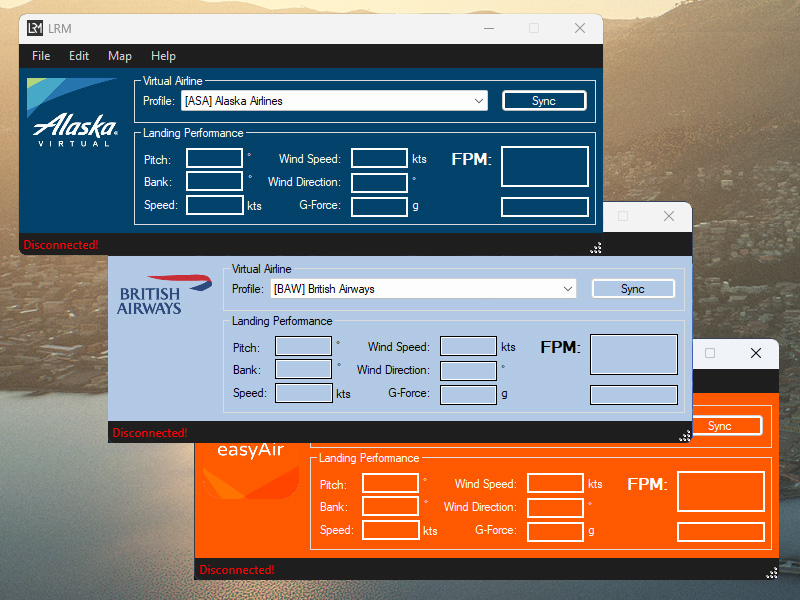 Batteries included!
Despite originally being developed as a landing rate monitor tool only, in recent years it has evolved and is now featured packed with goodies.
LRM has a ton of optional features including AeroPad (our EFB and live moving map) which can be run on your flight sim PC or on a separate Laptop or Tablet device. With Discord running, LRM will showcase your current location and/or your planned route. Our real-time weather lookup features enables you to query live NOAA METAR and TAF reports as well as sync and view your charts. Love screenshots too? You can configure LRM to automatically geotag them. Check out the many more features that LRM provides!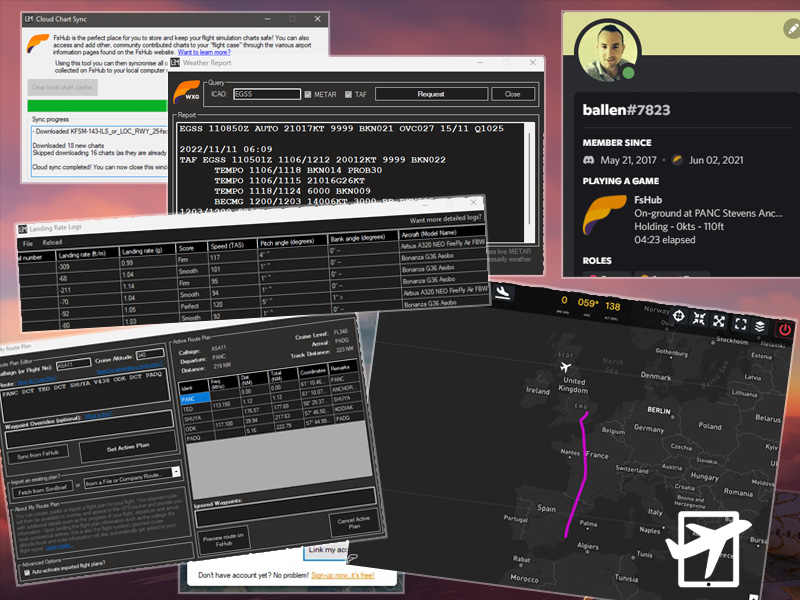 Wait, there's more...
Although we highly recommend you download and try it for yourself, there are a few more interesting things that we thought we would tell you about...
AeroPad (EFB)
LRM can be configured to automatically start an embedded web server on your flight-sim PC, this can then be used to connect to (from any device on your local network such as a tablet or other mobile device) our very own EFB and provides you with various apps and features such as a cabin sounds manager, live moving GPS map, METAR reports, airport information services and many more features!
Screenshot Geotagging
LRM can optionally be configured to geotag your flight sim screenshots and, uploading them to your FsHub flight report will display (on your flight report map) the exact location where, in the simulated world, that screenshot was taken!
Live Traffic (JoinFS integration)
LRM seamlessly integrates with the fantastic JoinFS tool and, upon launching the simulator, LRM can automatically connect you with your friends, regardless of the type of simulator they are using meaning you can be "see" and fly with each other across a variety of different flight simulators!
Frequently Asked Questions
Which version of the LRM client do I need to install?

Our "Universal Client" is compatible with all flight simulators (Microsoft Flight Simulator 2020, X-Plane 9, 10, 11 and 12, Prepar3D, FSX, FSX Steam Edition and FS2004) but does require a free copy of FSUIPC to be installed and running on your computer. If you are using X-Plane, you should install the XPUIPC plugin instead.

Our "SimConnect Client" is only compatible with Microsoft Flight Simulator 2020 but does mean that you do not need to install FSUIPC.

If you use multiple flight simulators we recommend you use the "Universal Client" as this single installation will work for whichever simulator you choose to fly.

What flight simulators do you support?

We support all major flight simulators running on Microsoft Windows.

We provide two versions of LRM, one version that uses Microsoft SimConnect to connect to Microsoft Flight Simulator 2020 and a backwards compatible "FSUIPC" version that also support X-Plane simulators.

Instead of downloading and using the SimConnect client, if you download the FSUIPC version (our "universal" client), this supports a wide range of flight simulators including Lockheed Martins' PrePar3D, Microsoft FSX, FS2004. This version also provides support for X-Plane (versions 9, 10, 11 and 12) when you install and configure XPUIPC.

What does the free cloud logbook provide?

By connecting LRM to your FsHub account and flying on an internet-connected PC, flight data is sent to FsHub, which, when you land is then processed by FsHub and generates a unique flight report.

Your flight report contains performance (speed, bank, pitch, VSI) information for both your take-off and landing, it tracks your flight time, distance, fuel burn, altitude, speed, path flown and much more!

This data is then presented on both a map (showing your departure and arrival airports) and a speed/altitude graph.

There are many other amazing features that FsHub provides such as being able to upload, store and present geotagged screenshots of your flights too.

How can I customise the look and fee of the LRM client?

Custom LRM styling is available to virtual airlines that have registered on FsHub.

Once you have registered (or joined an existing virtual airline) the virtual airline owner is able to set various customisations as to how LRM appears when you have the airline selected as your "active" airline.

Is there any documentation that explains all the features of the LRM client software and how to set it up?

I am experiencing issues and need help!

Our team over at FsHub provide free support to users of LRM. If you are looking for help please contact us using our Support Ticket system and a member of our team will get back to you as quickly as possible.

If you use and would prefer to get help via. Discord, you are more than welcome to join our community Discord Server.
Having issues, need help?

Which version would you like?
We provide two versions of the LRM client to cater for both older (and commercial) simulators in addition to the latest ones.